Invested Companies
HSIN YUNG ENTERPRISE CORP.
Protecting the Environment through Resource Recycling
The Evergreen Group established Hsin Yung Enterprise Corp. in December 1998 with the vision of sustainable development through environmental protection and resource recycling. The company constructed the first waste-to-energy plant on a Build-Own-Operate (BOO) basis. The plant has two new incinerators, which are designed to burn 1,350 tons of waste per day, the largest such facility in Taiwan.

Located at Zhongli Industrial Park in Taoyuan, Hsin Yung Enterprise Corp.'s plant operates 24/7 with a computerized control system in a central control room.
The company employs the most advanced technology to reduce waste volume by incinerating combustible materials and then taking the ashes to a landfill for disposal. Heat generated by the incineration process can be used to produce 35,000 kWh of electricity.

Hsin Yung Enterprise Corp. treats approximately 430,000 tons of waste and generates over 250 million kW of electricity every year. Provided that a household uses 300 kW of electricity per month, the company can supply power to about 70,000 households per year. This not only provides garbage disposal solutions, but also turns waste into a source of energy to achieve waste reduction, sanitary disposal, and resource utilization.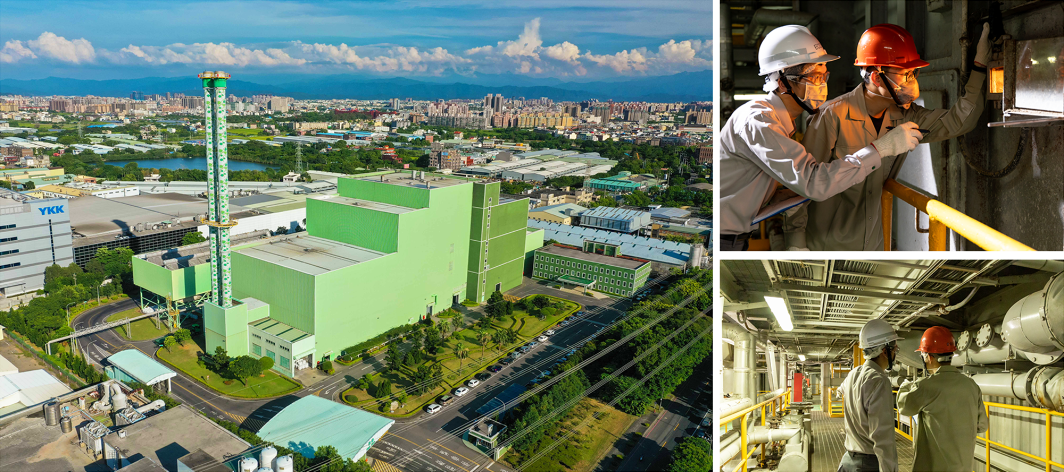 SUPER MAX ENGINEERING ENTERPRISE CO., LTD
Developing Green Technologies
Super Max Engineering Enterprise Co., Ltd. was established in 1980 and in its initial days mainly provided services for industrial water, wastewater, tap water, pure water, and sewage treatment.

In 1998, the company started to provide industrial waste treatment services. It built a resource recovery plant in Guanyin Industrial Park in Taoyuan City. With the assistance of the Industrial Development Bureau of the Ministry of Economic Affairs, the company has turned a 2.58-hectare site into a professional industrial waste treatment center with a focus on the treatment of various kinds of industrial waste.

The resource recovery plant in Guanyin has introduced advanced green technologies for solutions that integrate incineration and reduction of industrial waste with recovery and reuse of energy using professional techniques for treatment of non-hazardous/hazardous waste. These solutions help the technology industry, chemical industry, biopharmaceutical industry, research institutes, and medical service providers with disposal of waste. The company is permitted to process over 2,600 tons of waste per month.

In order to reassure the public about the environmental impact of the Guanyin plant, all the equipment in Super Max's resource recovery plant in Guanyin complies with the highest environment protection standards, and the company has installed an exhaust emissions monitoring system and engaged institutions approved by the Environmental Protection Administration for environmental testing and analysis.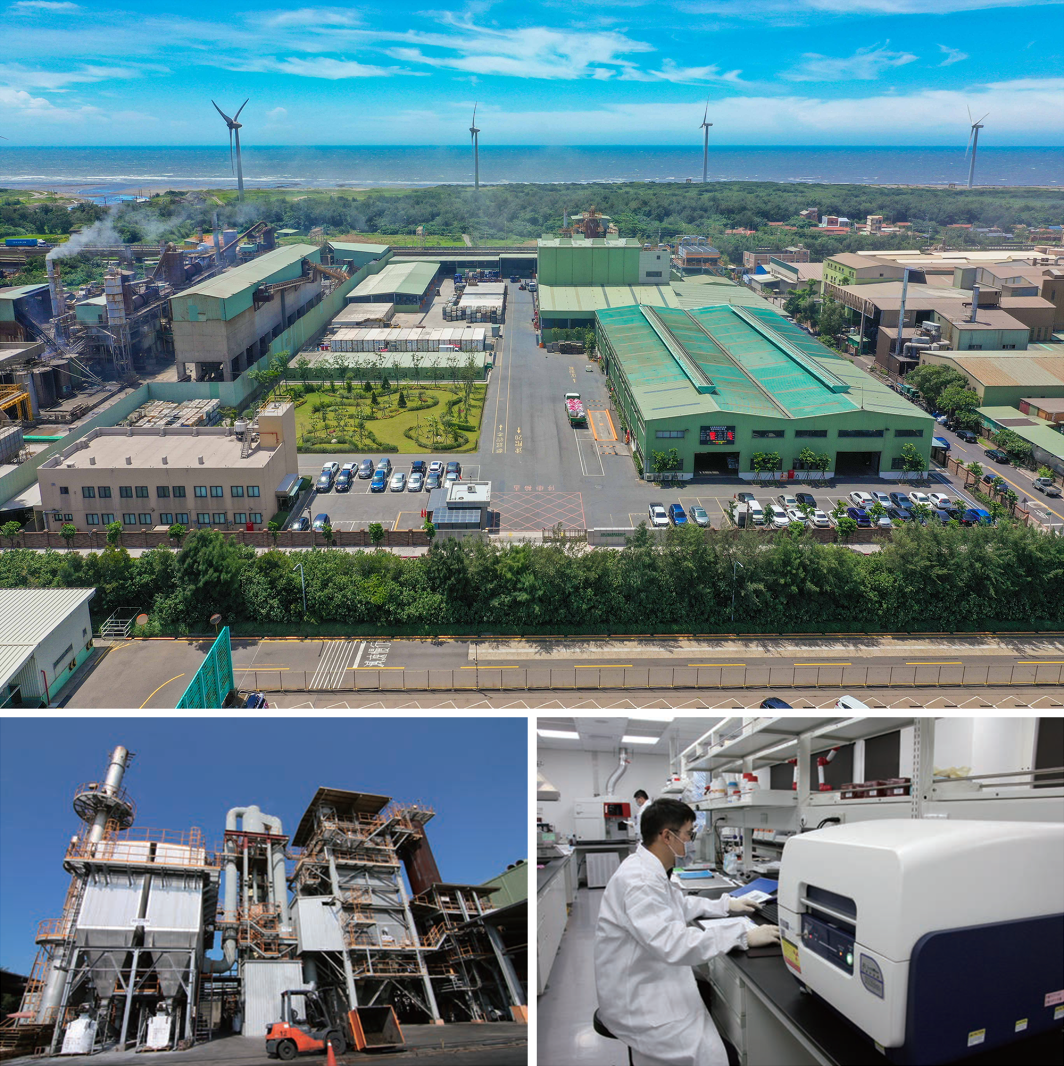 EVER ECOVE CORP.
Adoption of Waste Recovery Technology for Eco-Friendly, Low-Carbon Solutions
To meet the need for eco-friendly services arising from urban development, the Evergreen Group participated in the Taoyuan City Government's Build-Operate-Transfer (BOT) infrastructure investment project to set up Ever Ecove Corp., creating the first large multi-functional biomass energy center in Taiwan.

Ever Ecove Corp. is located in an area designated for environment protection facilities in Taoyuan Technology Industrial Park cover an area of 4.38 hectare.
In October 2018, the company signed a concession agreement with the Taoyuan City Government, which is effective for 25 years from the signing date.
The construction of the company's three environmental protection facilities for heat treatment, anaerobic digestion, and a solidification landfill began in July 2019. Ever Ecove Corp. plans to produce power with the heat generated by waste incineration and biogas generated by anaerobic digestion of kitchen waste to create a circular environmental technology park that features low pollution, diversified treatment approaches, and sustainable operating practices with waste reduction, re-use and recycle solutions. Ever Ecove Corporation has completed plant construction and is proactively engaged in trials.

After Ever Ecove Corp. began operations, its facilities are estimated to treat 800 tons of household waste, kitchen waste, and non-hazardous industrial waste per day, effectively tackling the problem of growing trash volume in Taoyuan. The company aims to contribute to a better future with its green, low-carbon, sustainable, intelligent, and eco-friendly services.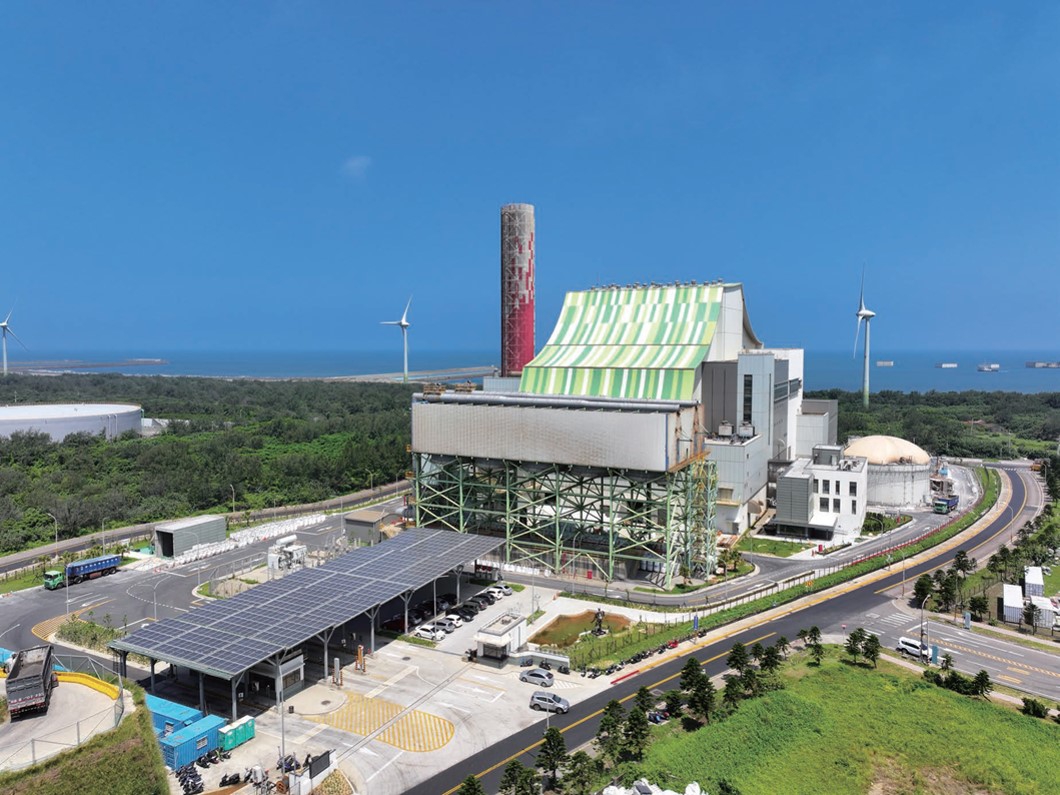 EVERGREEN HEAVY INDUSTRIAL CORP. (M) BERHAD
Professional Manufacturer of High-quality Containers
Established in 1989 and located in the free trade zone of Johor Port Authority in Pasir Gudang, Johor, Malaysia, Evergreen Heavy Industrial Corp. (M) Berhad is a large container manufacturing factory that mainly fabricates steel containers and relevant parts. Currently, it is the only steel container manufacturer in the world outside of Mainland China.

Evergreen Heavy Industrial Corp. (M) Berhad has new, highly-efficient container manufacturing machinery,such as diverse processing equipment for container parts manufacturing and a one-stop fully automatic machinery line for steel coil blasting, leveling, cutting, and coating.The company also uses various high-performance, automatic welding assembly machines for container assembling.

The container manufacturing facilities of Evergreen Heavy Industrial Corp. (M) Berhad are situated at Malaysia's Johor Port, located at the southernmost tip of the mainland Asia and a pivotal harbor on the shipping routes between Europe and Asia. Thanks to the company's convenient location, its containers can be promptly delivered to neighboring countries for their export activities. With strict quality control and the most advanced equipment, Evergreen Heavy Industrial Corp. (M) Berhad has achieved excellent production efficiency and provides customers with better services and high-quality products.